Anniversary at International House of Japan
Japan Malaysia Association held a commemorative event at the International House of Japan on 17 October to celebrate the 60th anniversary since its establishment.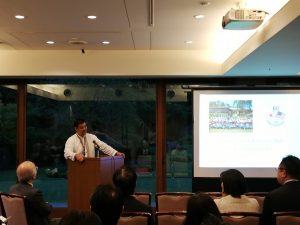 The event was attended by a number of distinguished guests from the academia, industry, government and non-government organizations.  The keynote speaker was Mr. Shingo Miyamoto, the Director of the Second Southeast Asia Division of the Ministry of Foreign Affairs, who oversees the foreign policy of Malaysia and other Southeast Asian countries, and addressed issues surrounding the two countries and future agenda. After briefing on past activities and efforts by the JMA, speakers and participants enjoyed the networking over the buffet.