The Malaysian Minister of Education Pays a Visit to Kinokuniya
The Minister of Education of Malaysia Dr. Maszlee Malik paid a visit to Kinokuniya in Shinjuku, Tokyo, on  November 2018 to celebrate the successful publishing of Malaysian books into Japanese.  The celebration was attended by representatives of the Ministry of Education Malaysia, Kinokuniya, ITBM, and Japan Malaysia Association.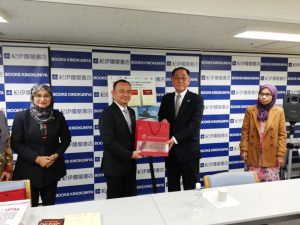 The Japan Malaysia Association (JMA) has been working for the past 5 years to translate works written by Malaysian academics into Japanese to introduce aspects of Malaysia which are otherwise unknown or often overlooked in Japan, such as halal, Malaysian history or Islamic laws.  Books are published every year in cooperation with Institute Terjemahan & Buku Malaysia Berhad (ITBM) and are sold at Kinokuniya.
Dr. Maszlee Malik reiterated an importance for the two countries to build a closer relationship and to introduce knowledge of Malaysian academics to the Japanese public by translating their works.  Takakazu Ogawa, the chairman of JMA, said while the prime minister Dr. Mahathir is known for his Look East policy, Japan should also learn to look west to learn from its close partner.    Mr. Masashi Takai, the president of Kinokuniya, promised to continue its commitment for introducing the Malaysian culture to the Japanese audience to help reinforce the relationship between the two countries.
The celebration was held at the Kinokuniya bookstore in Shinjuku where a small wagon was set to promote the sale of works by ITBM and JMA.  Kinokuniya is one of the biggest bookstore chains, running 72 stores in Japan as well as 31 stores overseas. In Malaysia, Kinokuniya has a store in the Petronas Towers KLCC, selling books in English, Malay, Japanese and other languages to local residents in Kuala Lumpur.